2020.04.24 Friday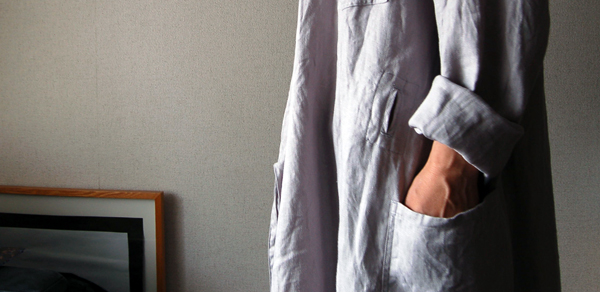 私たちのシャツは、性別や年齢にこだわることなく着ていただけるよう
スタンダードなタイプは、レディース・メンズ各2サイズの 4サイズを基本に
スタイルによっては全6〜7サイズと幅広く用意しています。
デザインのあるシャツは2サイズ(「1と3」か「2と4」)になります。
ユニセックスなサイズ感なので着こなし方の好みで選んでみるのもいいと思います。
ロングシャツは「1」という表記のワンサイズで女性の方のフリーサイズになります。
アトリエコートのように男性の方も着られるタイプもあります。
シャツは洗って仕上げていますので、初めてお洗濯したあとも大きくは縮みません。
ジャストサイズがオススメですが、サイズ違いを着比べてしっくりくるサイズを選んでください。
Standard shirts are basically 2 sizes for ladies and 2 sizes for men.
Depending on the style there are a wide range of sizes, 3-4.
Shirts with designs are available in two sizes.
Long shirts are free size for women.
Ladies size is more three-dimensional pattern with the same design
It becomes a feminine silhouette.
Men's standard shirt Many sizes are available.
The shirts are washed and finished so they do not shrink significantly.
I recommend just the right size, but try wearing different sizes
Please choose a shirt that comes nicely.
--------------------------------------------------------------
「5」の付く日、アトリエストアはしばらくお休みになります。
よかったら通信販売をご利用ください。
AIR ROOM PRODUCTS ONLINE STORE > こちら
--------------------------------------------------------------

facebook, instagram などからも通信販売可能です。よかったらメッセージでお願いします。
facebook >https://www.facebook.com/pages/airroomproducts
twitter > https://twitter.com/92camo
instagram >https://instagram.com/airroomproducts/